Editor's Note: This is a republished book review from my old blog in order to keep everything in one spot. This review was originally published on 7/26/15.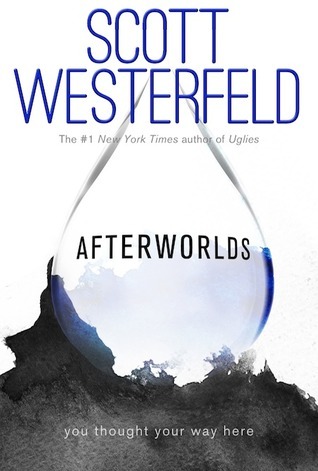 (From Goodreads) Darcy Patel has put college and everything else on hold to publish her teen novel, Afterworlds. Arriving in New York with no apartment or friends she wonders whether she's made the right decision until she falls in with a crowd of other seasoned and fledgling writers who take her under their wings… Told in alternating chapters is Darcy's novel, a suspenseful thriller about Lizzie, a teen who slips into the 'Afterworld' to survive a terrorist attack. But the Afterworld is a place between the living and the dead and as Lizzie drifts between our world and that of the Afterworld, she discovers that many unsolved – and terrifying – stories need to be reconciled. And when a new threat resurfaces, Lizzie learns her special gifts may not be enough to protect those she loves and cares about most.
---
Ever since I read the "Uglies" series by Scott Westerfeld, he has continued to be one of my favorite authors. His stories are varied and fascinating, even for the science fiction/fantasy genre. They're also inventive.
So when I saw the pitch for Afterworlds, I just knew I had to read it. First of all, Lizzie's story sounded fascinating. Ghosts and Indian mythology? Of course! I'm a big believer in diversity in fiction, especially when it comes to world mythology.
ANYWAYS. I was super excited to see the use of Indian mythology in here. Even if it is used loosely at times. It was fascinating and delightful. It added another layer to Lizzie's story and more to Darcy's story once you understand her heritage.
Lizzie as a character was well done and I think her voice was distinctive from Darcy's. Darcy striked me as a more nervous and cautious person, willing to do whatever it took to achieve her goals, even at times when it became a fault. Lizzie on the other hand was impulsive and more willing to put her family and other people above herself.
I can't say much for Lizzie's love interest though. He seemed to be a bit more moody and calmer, but knowing his history, I also found him to be a little creepy at times. He was more discontenting to me than anything.
One of the more interesting things about Darcy though was the surprising twist to her love interest that I wasn't expecting from the pitch. Darcy decides to put off college to pursue her YA novel publishing adventure in New York City (THE place to be, of course) and lives on her own.
I found her situating a little bit more unlikely, just in the fact that to me I'm not sure what the chances of one finding their own nice apartment and other things. It just seemed a tad bit stretching to me. Granted, the money part of it did seem well thought out, but I don't know, something about it didn't sit well with me.
I did like though how her family still played a part in things and it was interesting to see how they influenced her life even though she wasn't living with them. I thought though that Darcy moving into her apartment and then finding out that she needed things like pots and pans and a broom to actually sufficiently live on her own. And then figure out that she hadn't exactly budgeted for those things.
It seemed like a young adult thing, not exactly well thought out plan, but a thought out plan. I thought though maybe her parents could have stepped in a little bit more there though instead of relying on her younger math-whiz sister.
As I was saying, her love interest was another writer. Which was a lovely and interesting choice, as a wanna be published author. I think all writers just a tiny bit hope to find another writer to fall in love with.
The thing that surprised me though was that the other author was also a girl. I hadn't expected our protagonist to be bi, but it was a refreshing choice, nevertheless. And seeing Darcy's own surprise about it was interesting too. I'm glad to see some LGBTQ+ representation in this novel.
Having her love interest be another writer, I thought was well done and realistic. Although Darcy loved her and her stories, Darcy also at times felt jealous towards her about her writing and how she treated other writers. The relationship itself was also realistic and I was satisfied with the way it ended.
One of the most fascinating parts about this book to me of course was the inside look of publishing. Granted, its probably a more jazzed up, fantasy version of every author's dream, but it still was fascinating to me and I thought displayed a lot of real things about the publishing world. For the non author out there, I think this is another point that they could learn from.
Overall, I thought the novel was very well done. It was also refreshing and exciting to see an author my age live out her dream and then also read the resulting novel. In truth, Scott Westerfeld combined two novels together and did it wonderfully.
Both stories were exciting and interesting and had an abundance of different things to capture my attention. The plots and voices of each story were distinct and separate. One wonders how he wrote this. One after the other or both at the same time?
Goodreads- Afterworlds
Scott Westerfeld- Goodreads
---
Latest Posts