Ever since I was little, I've always had an obsession with stationary and journals. When I was five, my mom got me a little locked journal that I wrote about "Moonstar" (some random character) in.
I didn't really pick up journaling however until my mom got me another journal when I was around 12. At this time, my parents had officially divorced and my mom moved us from the South to the North where her family lives.
I had my cousins as friends which I've always loved so I wasn't journaling because I was lonely. However I really got into journaling every day around this time up until my junior year of high school I believe.
Ever since then, I've done journaling on and off. This year, I've been trying to be more intentional about journaling and not just using it as a diary.
Since I'm a grown adult now though, I do tend to lean more towards specialized and fancy journals, notebooks, and planners now. I like the more sophisticated versions rather than just lined notebooks.
So I thought I would share some of my favorites and why and the ones I really want to get.
I LOVE these notebooks. Eversince I saw them in a local paper shop, I've been wanting one. These bullet journals are AWESOME for a variety of reasons:
Thick bleed-resistant paper
Gilded Edges*
Thick notebooks
Vegan
A variety of paper stocks (dots, ruled, blank, black, etc).
Eco friendly packaging
Lots of color choices
Lots of designs
Bookmarks
Folder in the back
The only downsides to these journals is that they are pretty darn expensive. The majority of them cost from $32-36 dollars. So it's not a casual notebook in my opinion.
While these are aimed mostly at bullet journals, I actually don't use the bullet journal method. It's been a system I've never really been able to keep up and maintain, so I don't plan on using these notebooks as bullet journals.
These Japanese owned notebooks are a staple for travelers. I also think they make great notebooks overall and the concept is genius.
I believe these journals might have been the original "traveler's notebook" but I could be wrong. These are expensive and will cost you $40-60 depending on what you get plus extra accessories.
Extra elastic
Charms
Notebook inserts
Folder inserts
pencil bag inserts/zipper pouch
Pen clips
Etc.
However you can find a lot cheaper versions as well. For a while, Michaels had some really cheap versions for less than $10 and currently Webster's Pages as some on sale as well.
Not only that, but these are also really easy to make yourself.
To make mine I use:
Stiff felt sheets or leather sheets from Michaels or another craft store
Elastic
A leather hole punch
A paper cutter
Stiffer kraft paper or construction paper
A ruler
Scissors
Etc.
The reason people really like these journals is that you can customize them to your heart's content and reuse them as much as possible.
They were originally aimed at travelers I believe because typically you can include folders and pockets and zippered bags in them which makes it great for journaling while traveling. I made one when I studied abroad to Japan and it came in handy.
Granted, I also had to keep a journal for the class I was taking, but in general it was really nice to have anyways. It made collecting maps, business cards, random origami gifts, train tickets, temple stamps, and other items really easy.
These are really similar to Midori's kind, but I LOVE the traveler's journal version I have. It's gold and has lots of pockets for credit cards, an ID, and other items. Plus there is a lot of accessories you can get with it.
I got mine on sale and it's been a dream when I'm traveling to take notes. Personally I like these better than the Midori Japan ones just due to the extra card pockets. Plus I love the color options and the designs for the outer notebook. And it comes with 4 elastics in the middle so you can put in a lot of notebooks.
Barnes and Noble's
I have a map version with real Italian leather of a world map on it and I LOVE IT. It is so darn thick and the quality is great.
I can't possibly list every single journal and notebook that B&N carries, however I think they have a lot of great high quality options. My leather journal has lasted me a long time, the paper is thick, and there is a lot of paper in them.
However, most of Barnes and Noble's journals can be pretty pricey so it's another option you might need to save up for. However, I would totally buy mine or something similar to it again.
I haven't used a lot of their planners, but the ones I've bought I've really enjoyed. You can find these else where online, but I get mine at Target.
Recently, I've been really obsessed with their thoughtful journal. I don't have it, but I looked at it last year for Christmas and kinda regret not buying it. I just really think it would be a great way to focus on throughout the week and month instead of a traditional planner.
Russel + Hazel Planner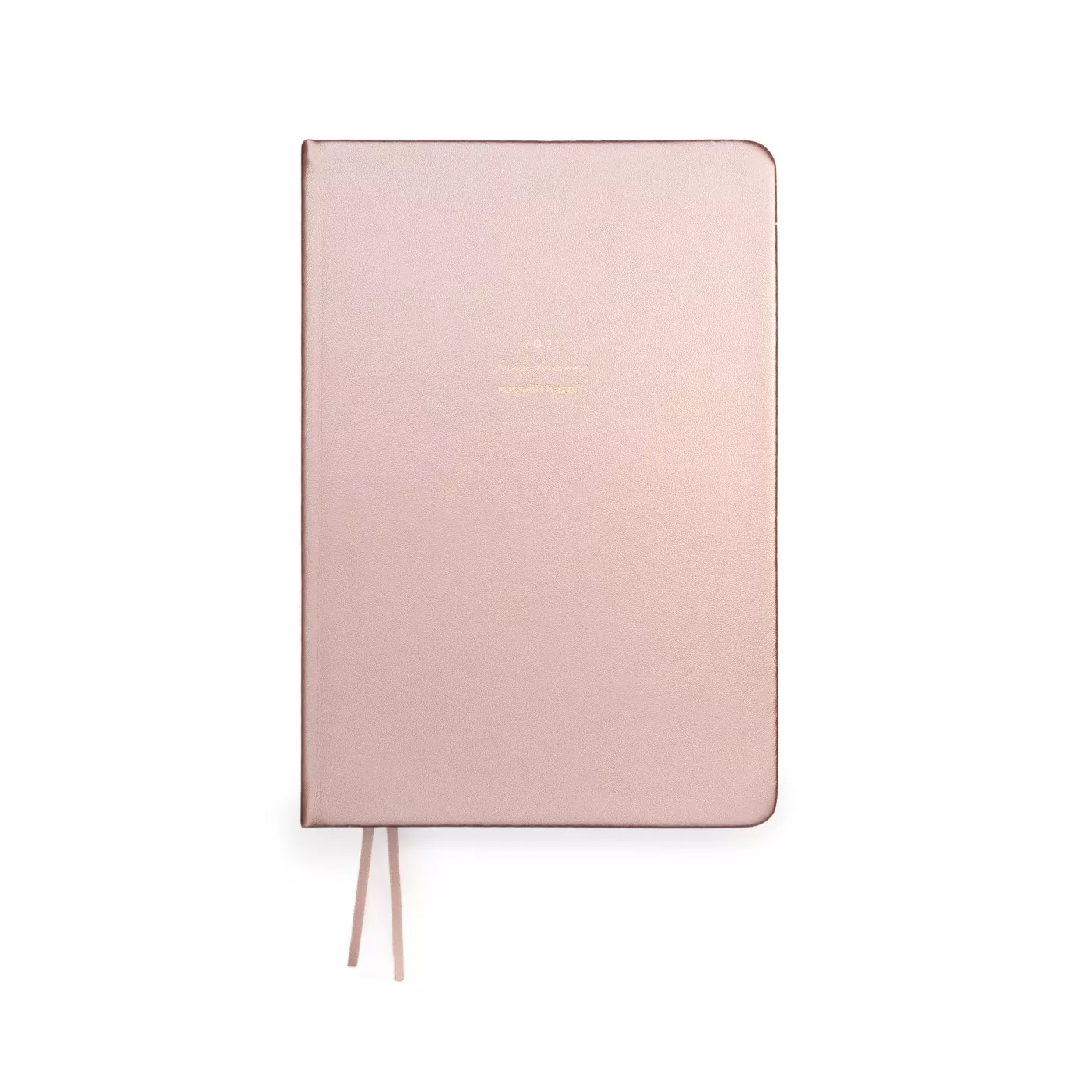 I'm new to these planners however I recently picked up this rose gold daily planner at Target (Target is another favorite place to get journals and planners honestly). It isn't as pricey as some of the other journals and planners listed on here however it has a lot of pages.
In particular, I really love this planner because it breaks down the day by hour. This is really important to me because I run a pet sitting and dog walking business on the side. Therefore, I have a lot of dogs I have to plan in.
I also have a lot of meetings for work and other kinds of events (currently online) that I attend I need to plan for. Being able to write them out, hour by hour has been great.
Granted, I can also use my phone (which I live by Google Calendar), but I really enjoy the act of writing with pens so I still love physical journals and planners.
My roommate introduced me to the Passion Planner and it reminds me a lot of the thoughtful journal by Blue Sky. I love that it focuses on goal setting and other kinds of life planning.
It's another notebook I currently don't own but would love to buy some day.
With my OCD, I'm kinda a sucker for lists and other organizational and aspirational items. I'm the kind of person who will drive half an hour back home just to double check I turned the coffee pot on and make sure I have a list for everything.
I think the passion planner especially looks like it would be great post pandemic. Especially when I can see people and travel again. I might consider buying it then.
Target's guided journals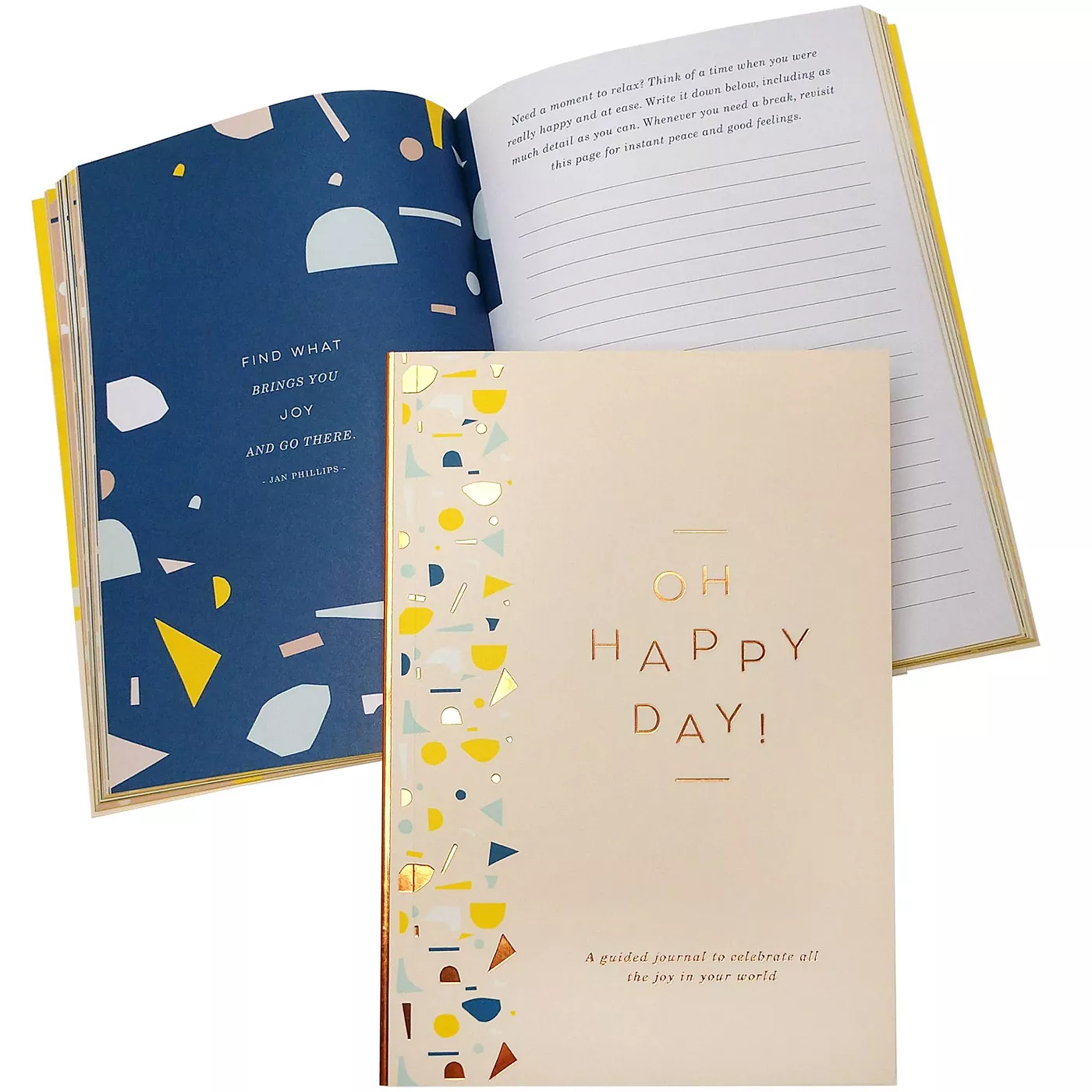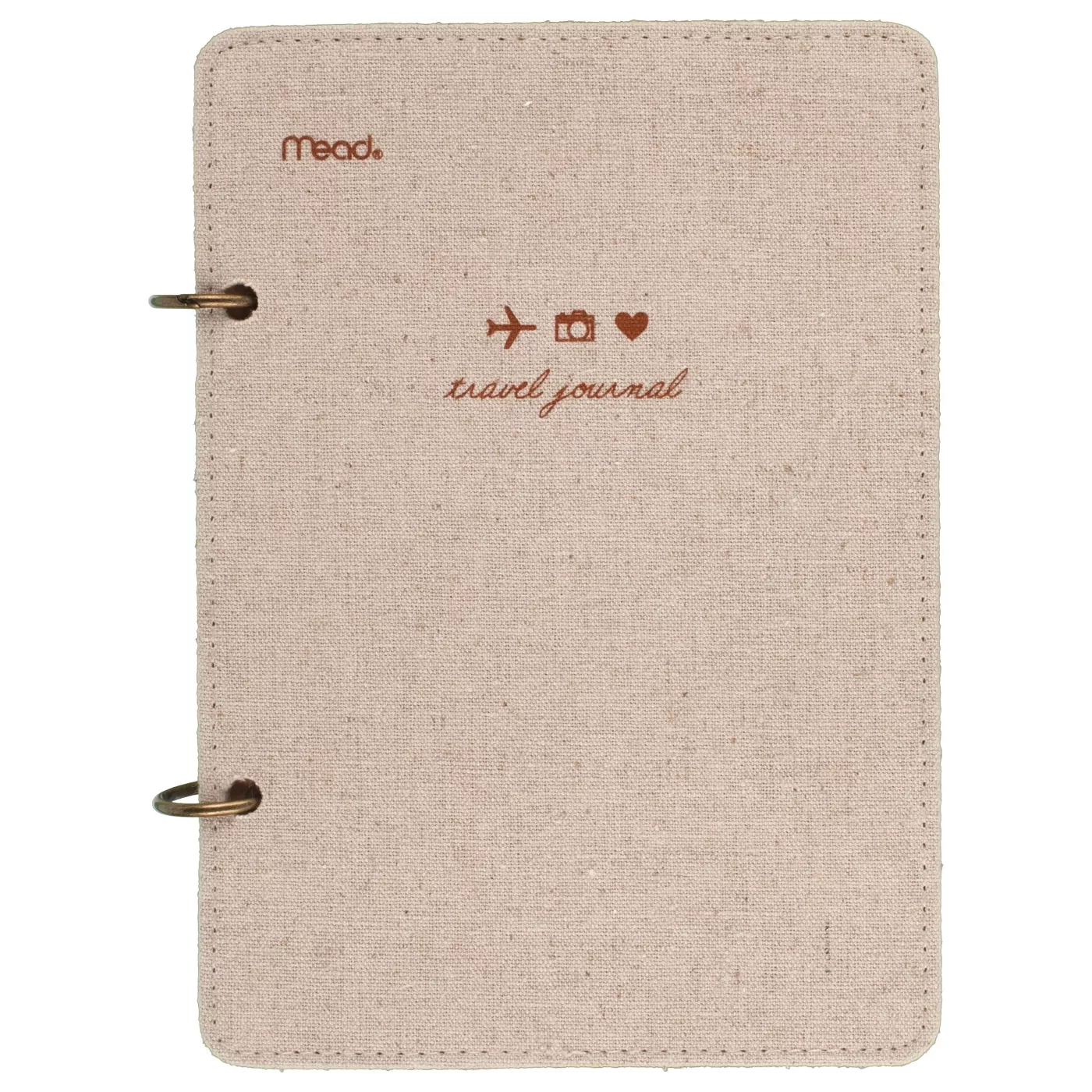 Target's journal section has always been ON POINT for me personally. I've ALWAYS loved their stationary section, but the past several years, they've been rocking it.
I acquired the Oh Happy Day! journal last year when the pandemic started. I was feeling really down and depressed and thought something focusing on joy would be really beneficial. I got away from it but recently picked it back up again.
When I'm done with this currently notebook, I plan on writing down the prompts and saving them to my digital diary app or to Evernote so I can reuse the prompts later.
Currently, I love their writing and drawing prompt books, this travel journal version, and several other themed notebooks and journals.
handmade Bookbound by me
This is a really dangerous hobby for someone who absolutely loves notebooks and journals. Creating notebooks actually isn't too hard but it can be REALLY complicated and REALLY expensive pretty quickly.
Bookbinding is an art that has been around for centuries and a lot of variations still exist today. Mostly you need Scissors, Paper, cardboard, waxed thread, needles, glue, and a cutting board. Until that is you get into some of the more intense versions of bookbinding where they make looms, cradles, and other tools for book binding.
One of my favorite places to learn bookbinding is Sea Lemon on Youtube. She has a lot of great tutorials and they're easy to follow. I also own several bookbinding books as well so I have those techniques to use as well.
I don't do a lot of intense bookbinding at the moment. Bookbinding takes up a lot of time, space, storage, and money. So it's a hobby I'm not doing a ton of until I finish using the notebooks I've already make and I get a better crafting station.
Watercolor notebooks
I can't remember where else I've seen a similar concept but I REALLY LOVE this idea. I would like to buy a product similar to this eventually. I think it would be really aesthetically pleasing to write in.
I typically don't like pages that are really decorative, one of the reasons I hated kids journals when I was little. However, I could get behind something like this if the watercolor designs weren't distracting a whole lot.
If you have an Iphone, I really recommend this app. All of the other diary apps I found you had to pay for a subscription for which I personally think if quite dumb.
While I can use the notes app or the Evernote app on my phone, I wanted something separate from those that I found write without a lot of bells and whistles.
---
Latest Posts